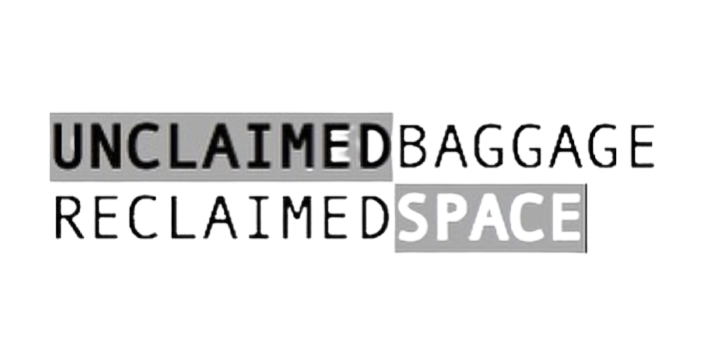 Unclaimed Baggage. Reclaimed Space.
UNCLAIMED BAGGAGE/RECLAIMED SPACE was designed to give artists the chance to show powerful, personal works without the typical gatekeeping measures put in place by traditional curated spaces. An open, mutable collection of works, UBRS sought to foster dialogue and collaboration between creatives. The exhibition's mundane, urban location—at once accessible and hidden—served to offer a tongue-in-cheek critique of the modern strictures of gallery exposure, while embracing the DIY attitude and aesthetic that has fueled artistic movements throughout history.
Ringo Lisko, Curator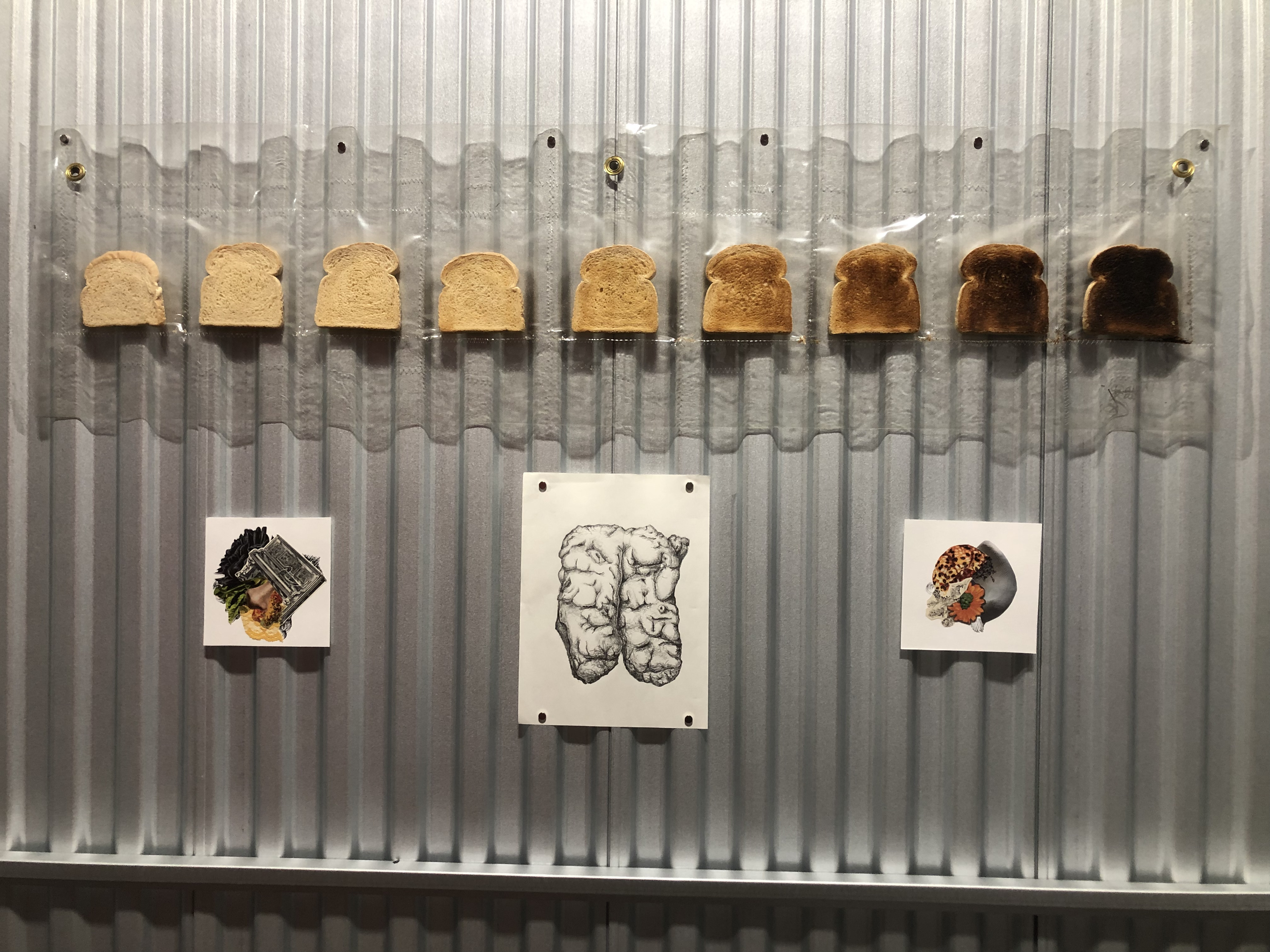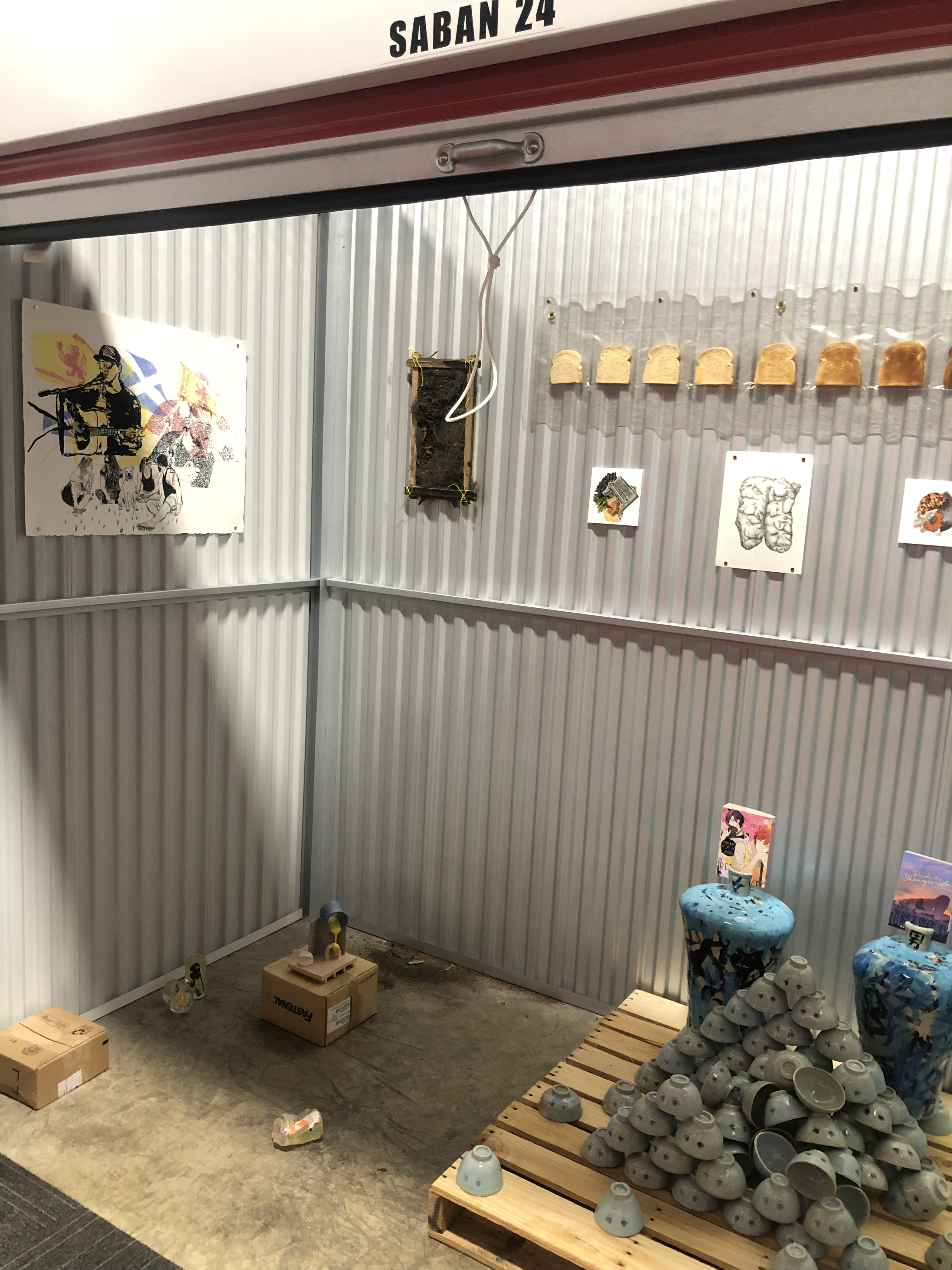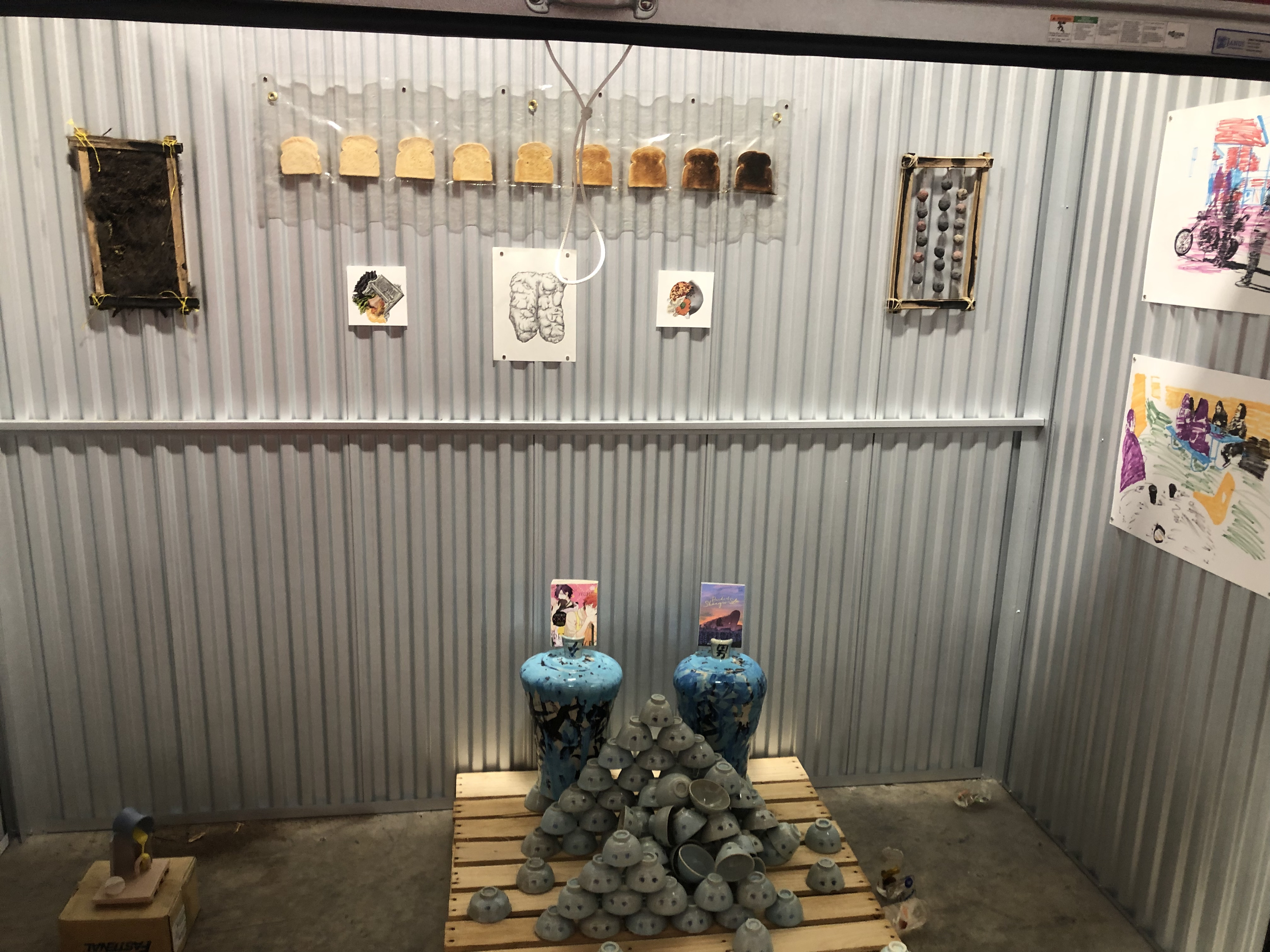 Dillan Ladner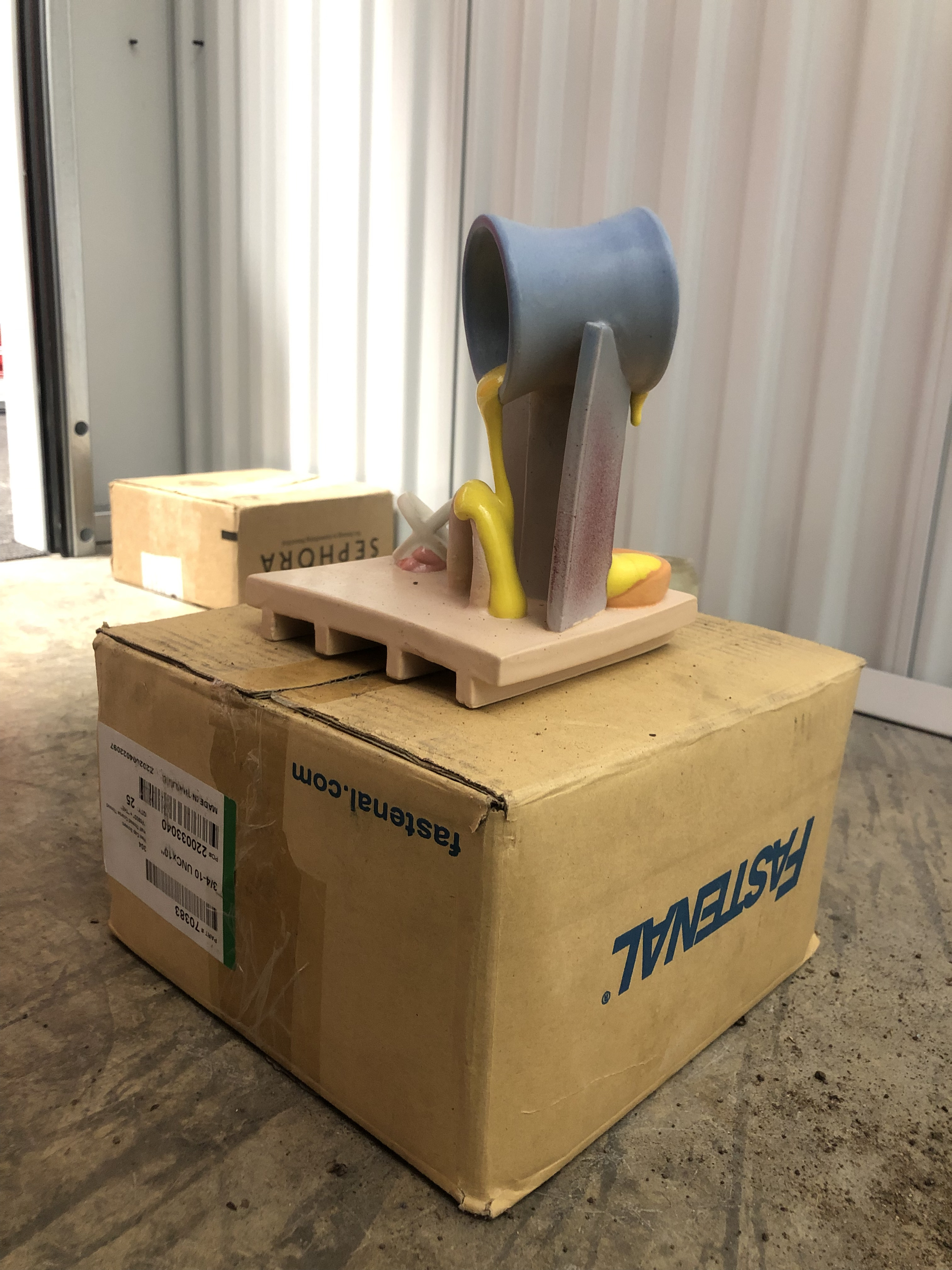 Pouring Game, 2021, Stoneware and glaze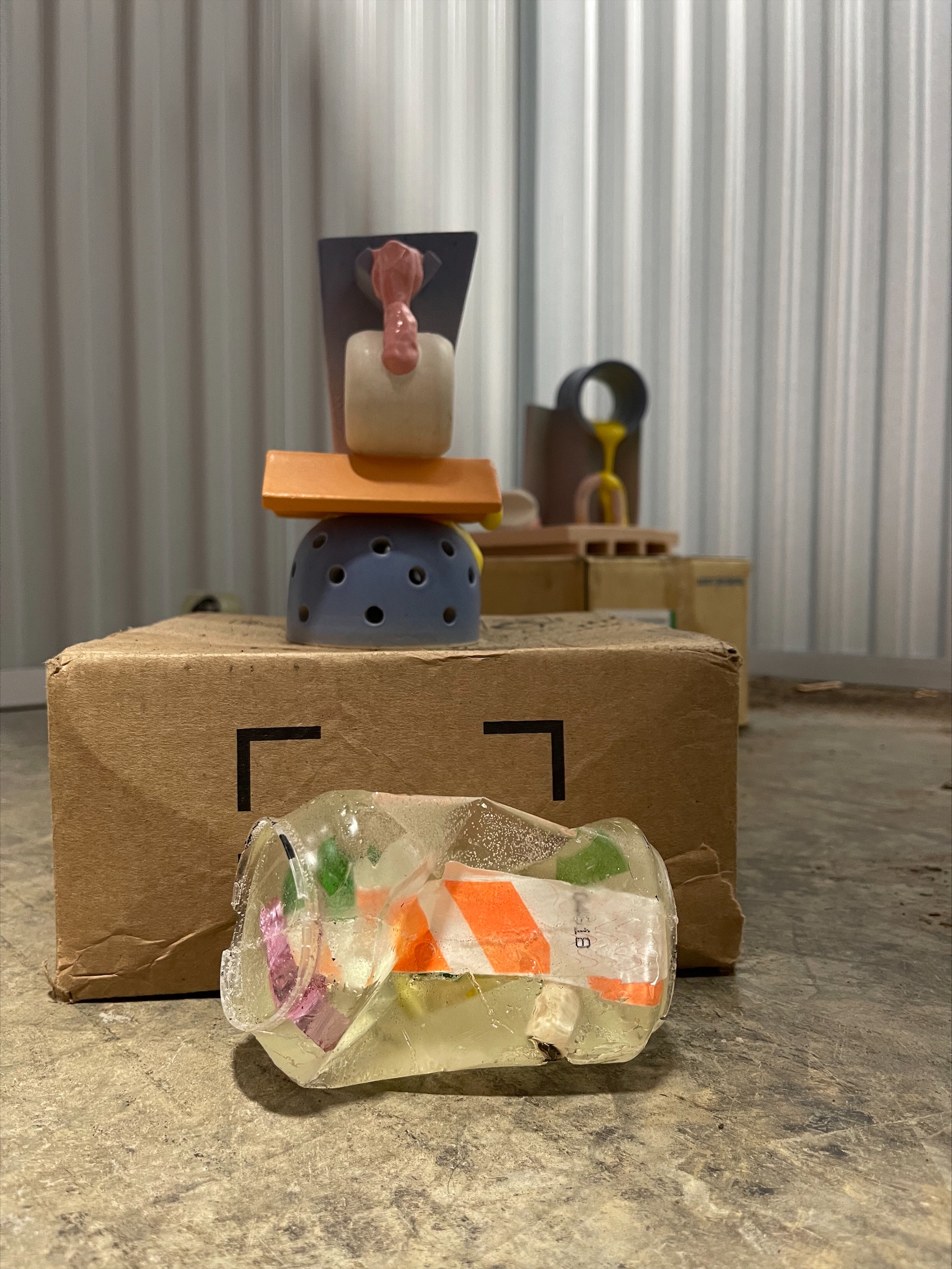 Stacked, 2021, Stoneware and glaze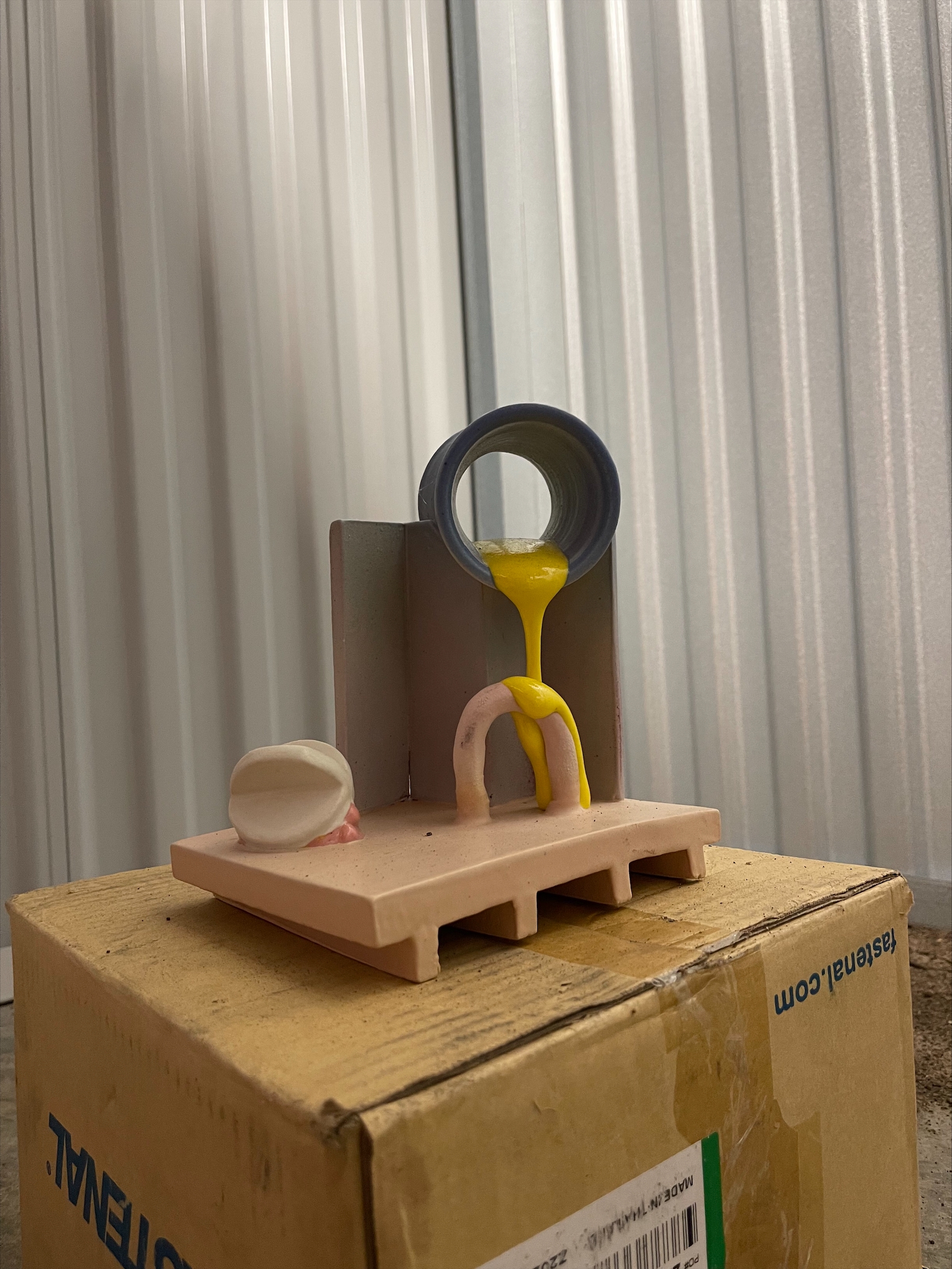 Artist Statement: Voluntarily renouncing responsibilities for the sake of amusement, escaping away momentarily into a world separate from reality. A delicate balance between obligations and desires. Fluid-like glazes hang in a state of movement that seems as if they could spill out onto the table or float into the sky. Bright satin colors recreate the feeling of familial toys possibly seen before. Precious objects that could easily shatter; are they experienced with the eyes or the hands? My work is a result of moments in play. Intimately detailed objects interact with each other to invoke environmental wonder and curiosity. I consider the relationship between work, leisure, and the effort we go through to escape the twenty-first century repetitive work cycle.
Kat Murray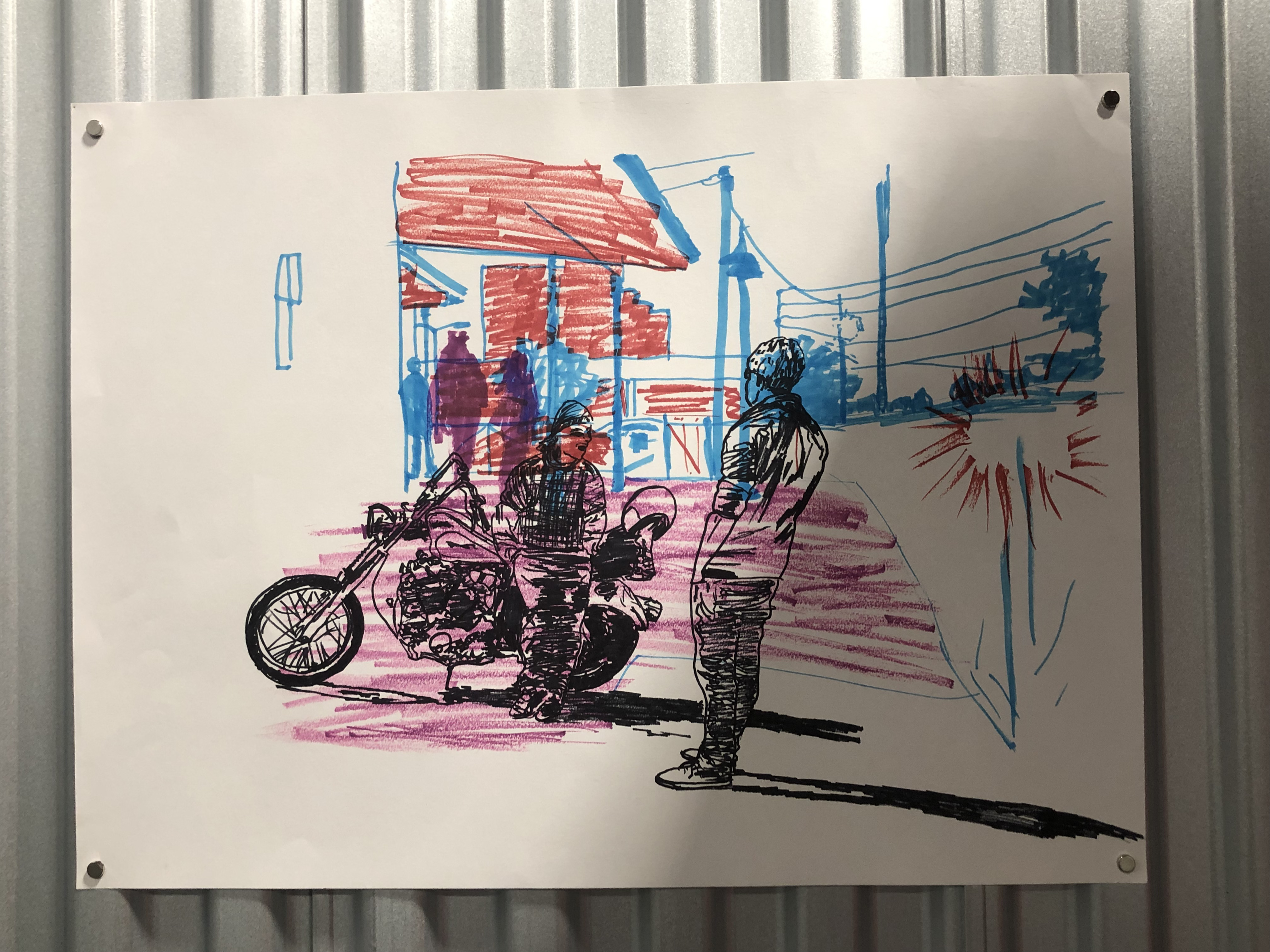 Cahaba Brewing [motorcycle], 2021, Prismacolor marker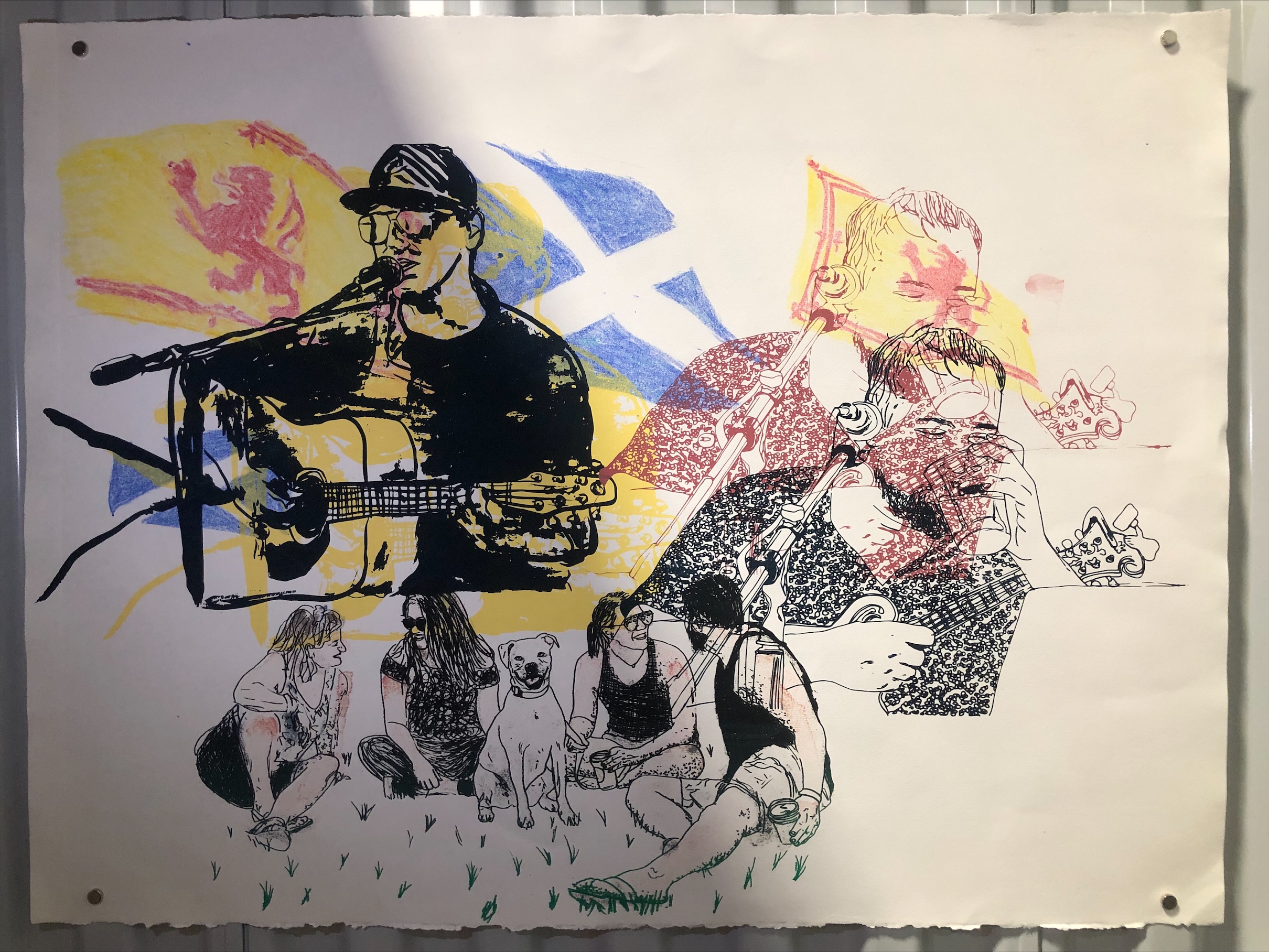 Highland Games [guitar], 2021, Screenprint, watercolor monoprint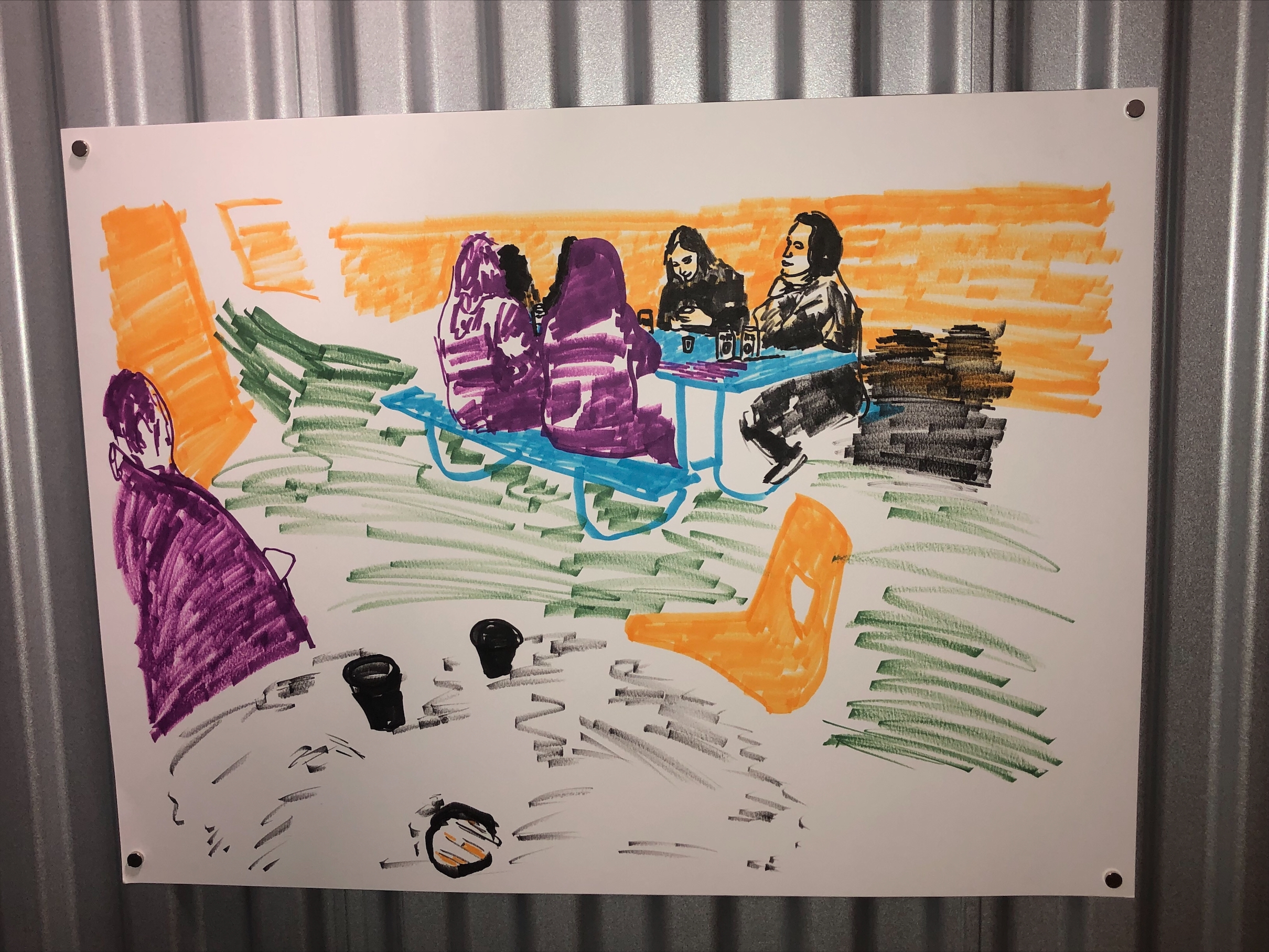 Behind Moms [picnic table], 2022 , Prismacolor marker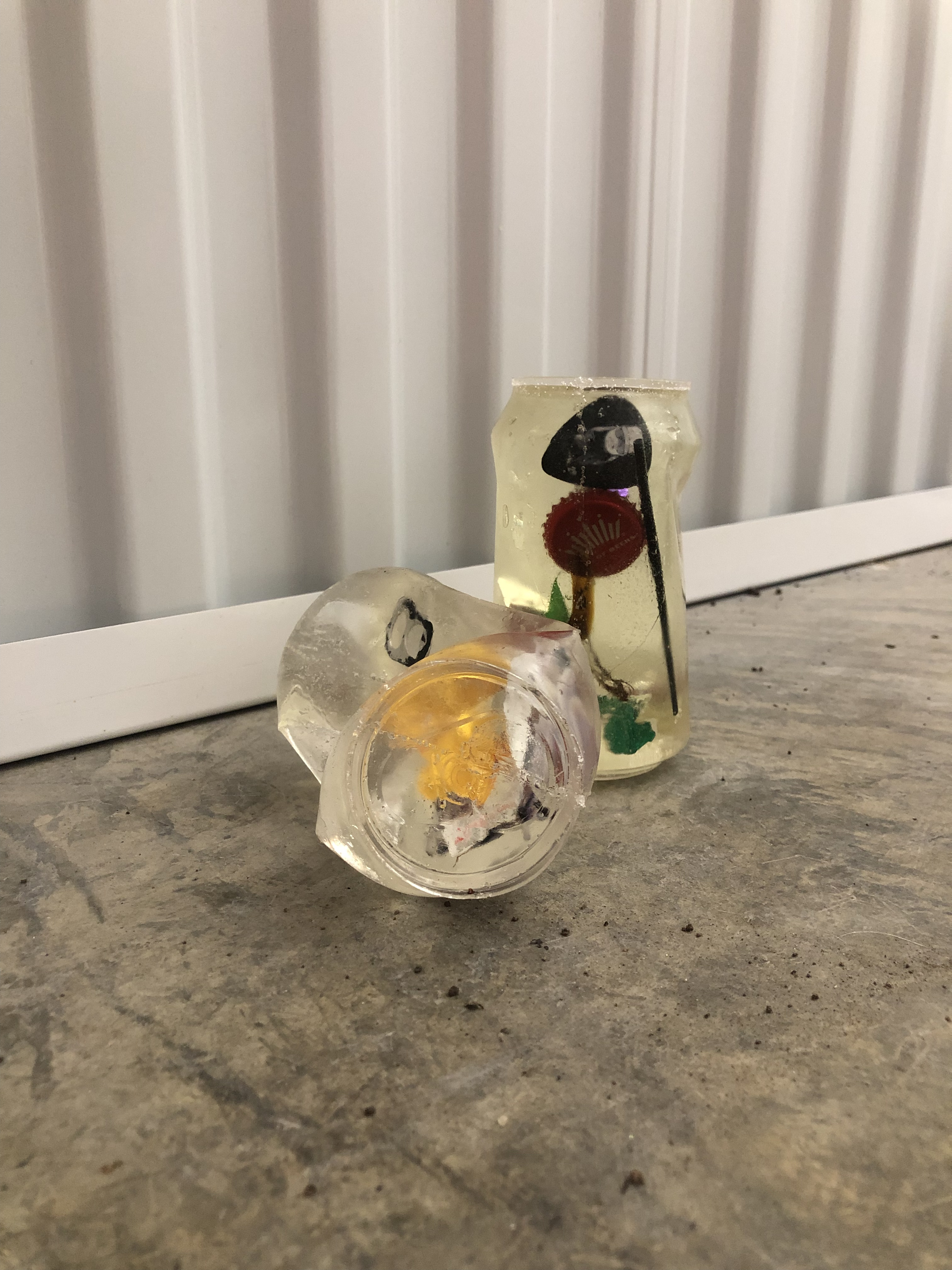 Alley Remains [sculpture], 2022, Resin and detritus
Artist Statement: My work is about the ephemera left behind at social gatherings. After the passing of time, what lingers? I walk around areas of heavy foot traffic like city streets, and parks collecting snapshots and trash. I'm interested in grabbing traces of what remains intact of a moment after it passes. Time, it passes. It goes right along. What remains?
Molly Lane Lay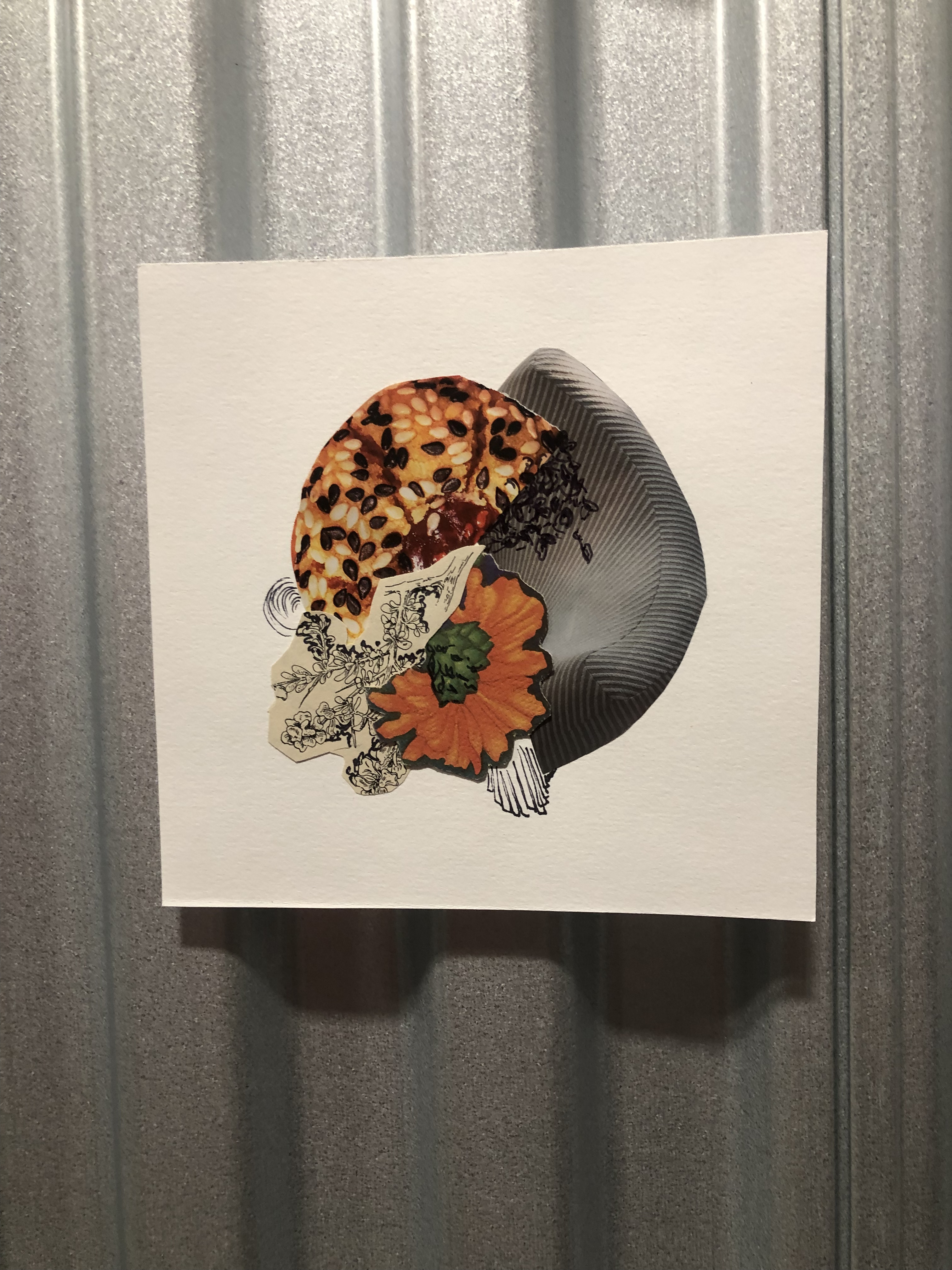 Sofa Bagel, 2022, Mixed Media Collage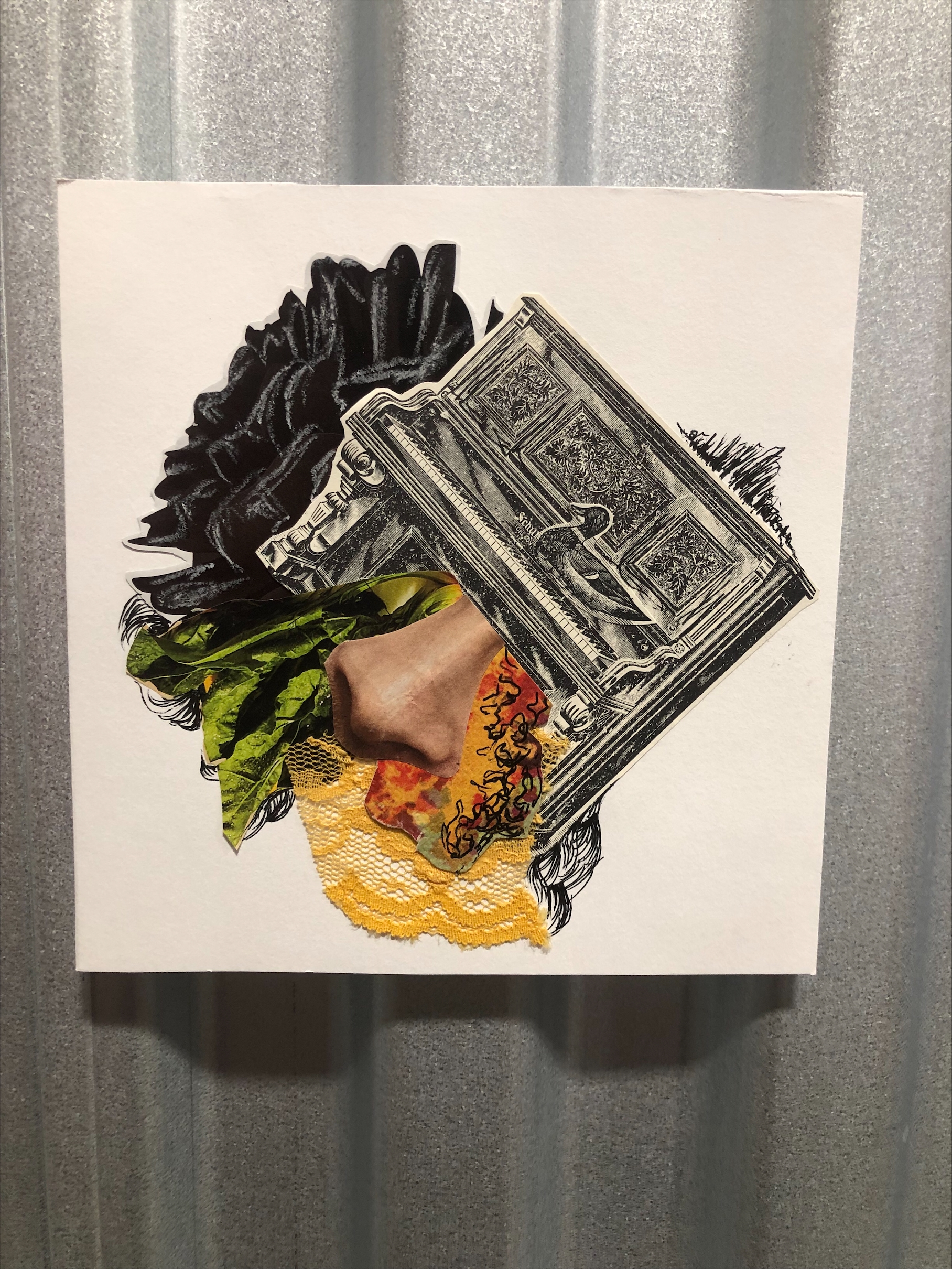 Nosy Pianos, 2022, Mixed Media Collage
Artist Statement: My work explores human responses to the passage of time. As people, this response occurs simultaneously together and alone. Every day, each one of us decides where and how to use our time. Except it's not ours. Time answers to no one. What most interests me is what time demands of us. Time moves like the tide in an unbroken cycle - beginning, end, repeat. The past pushes, the future pulls and the present hesitates. I use a multitude of sculptural materials to express these concepts, such as natural and synthetic found objects, handmade papers, and cast bronze.
Ryan Akers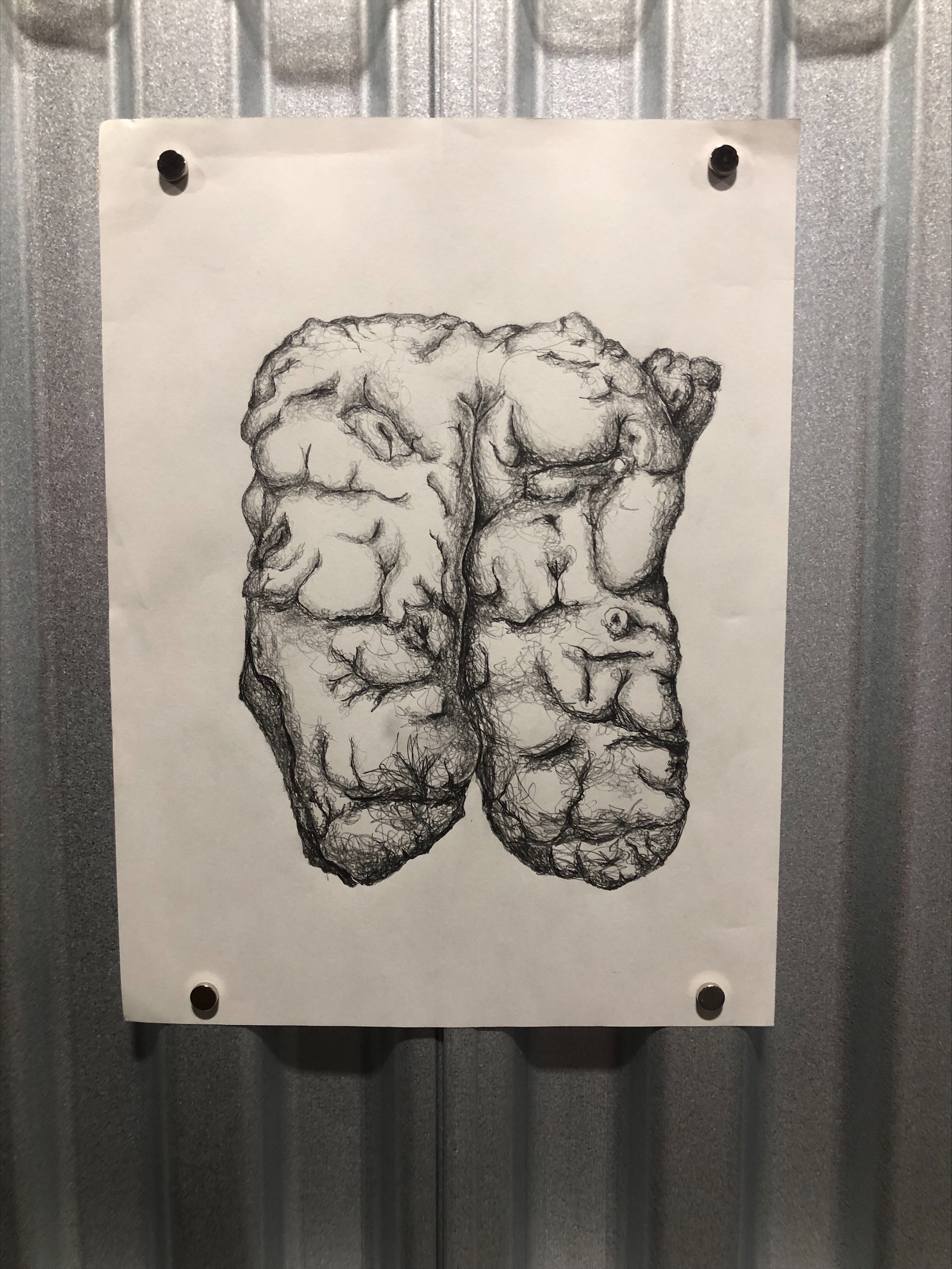 BAG MEAT, 2021, Graphite on paper
Jennifer Gault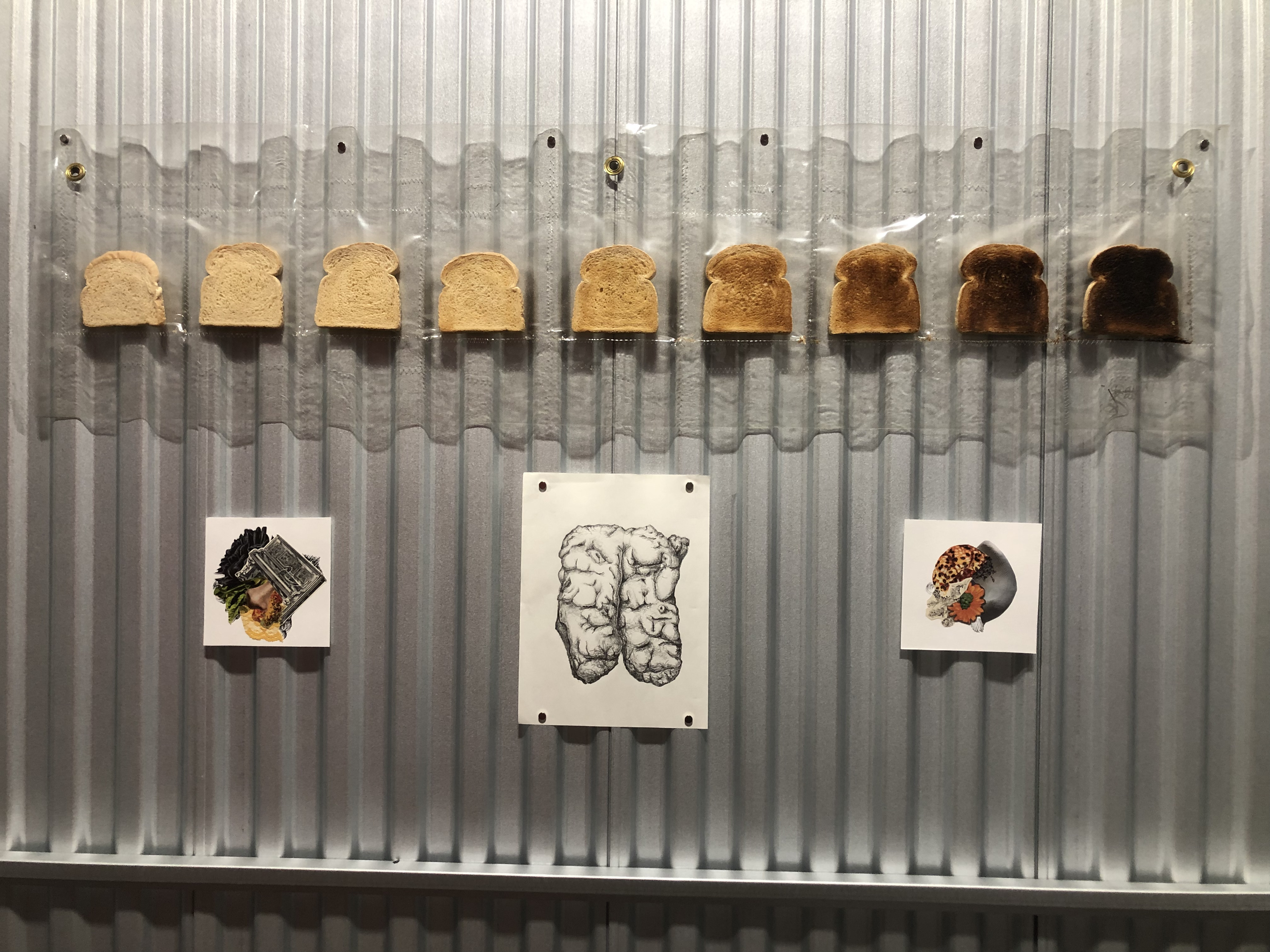 It's Just a Matter of Time, 2007, Wonderbread, plastic sheeting
Aidan Miles-Jamison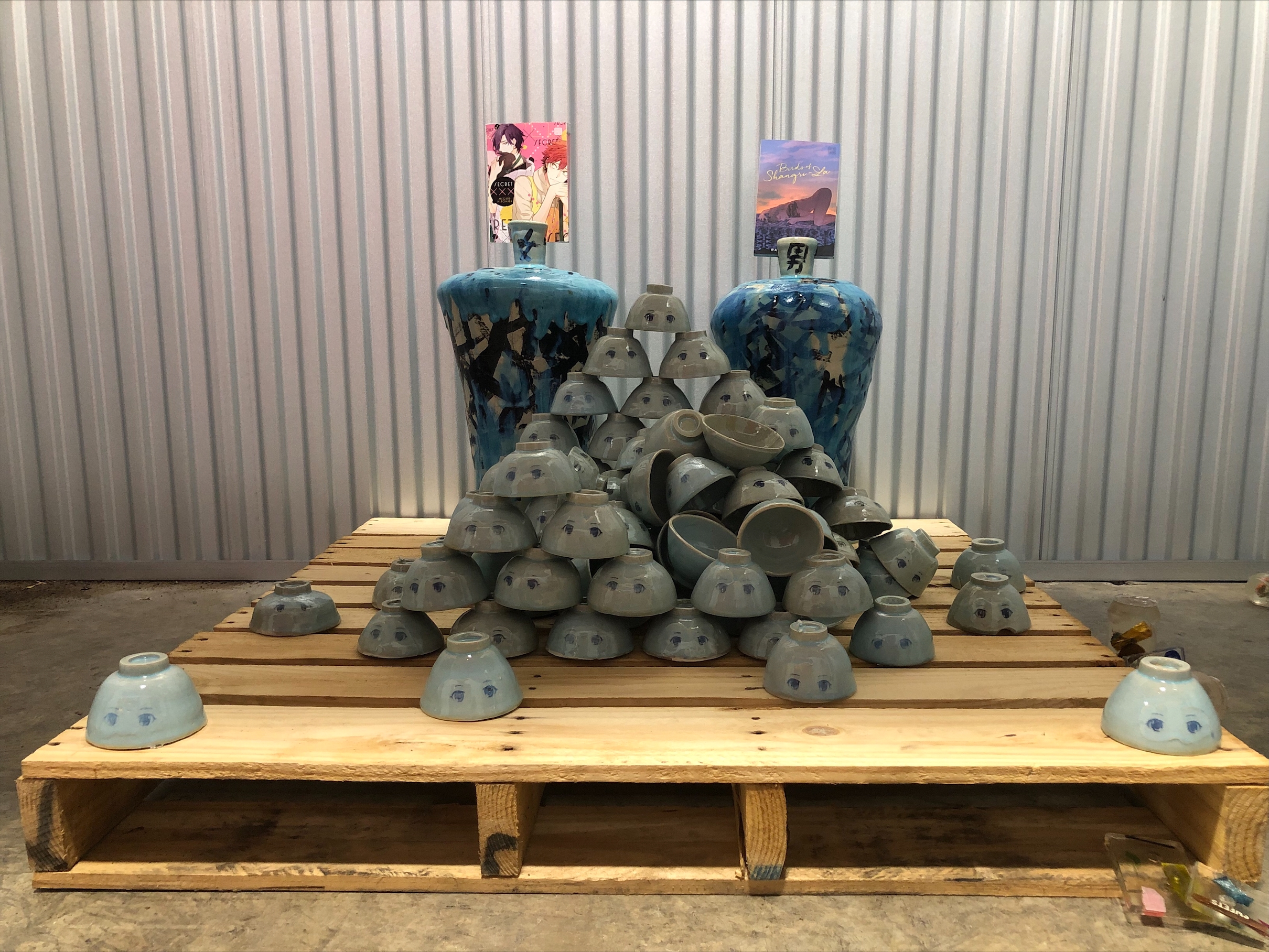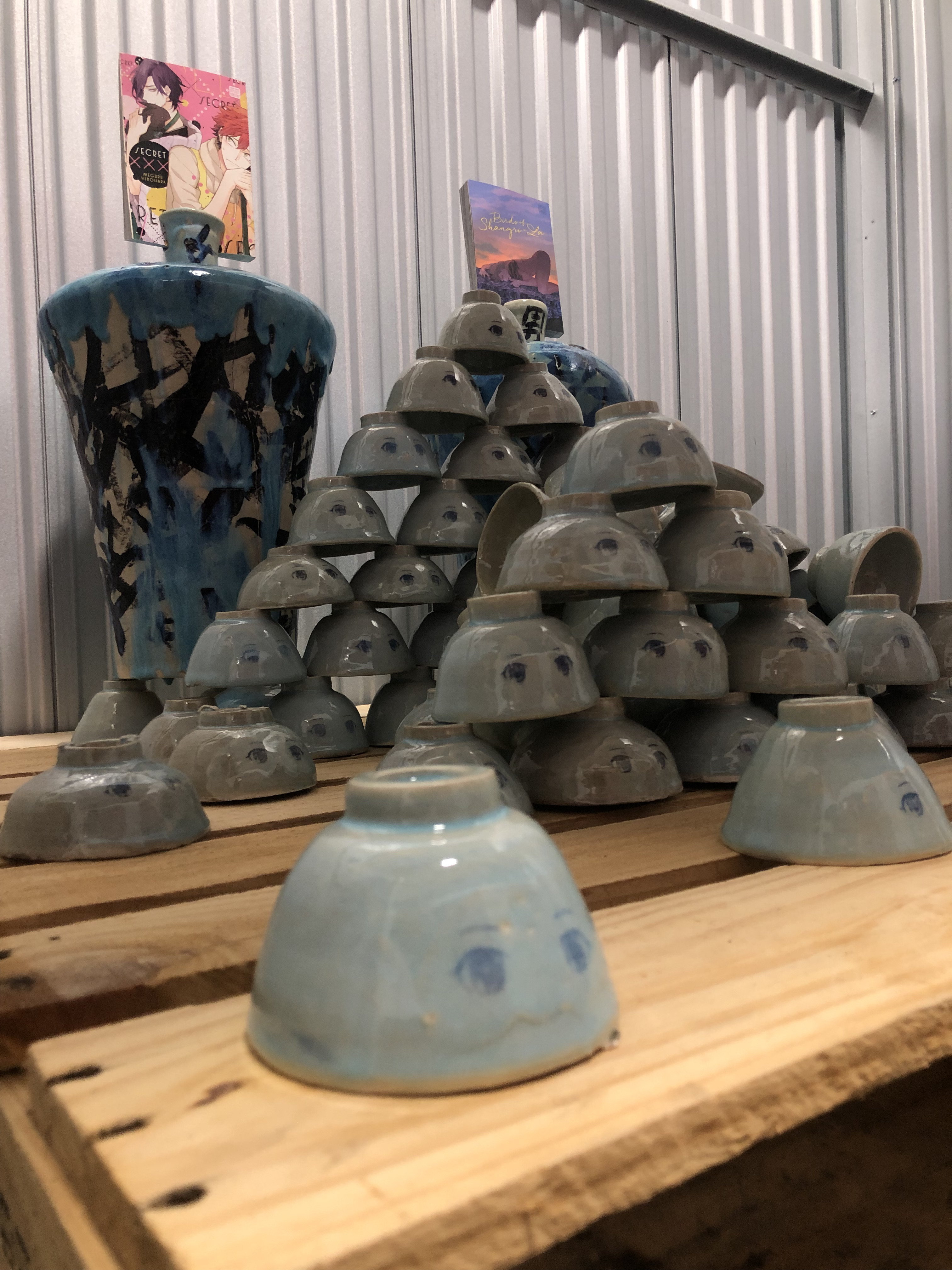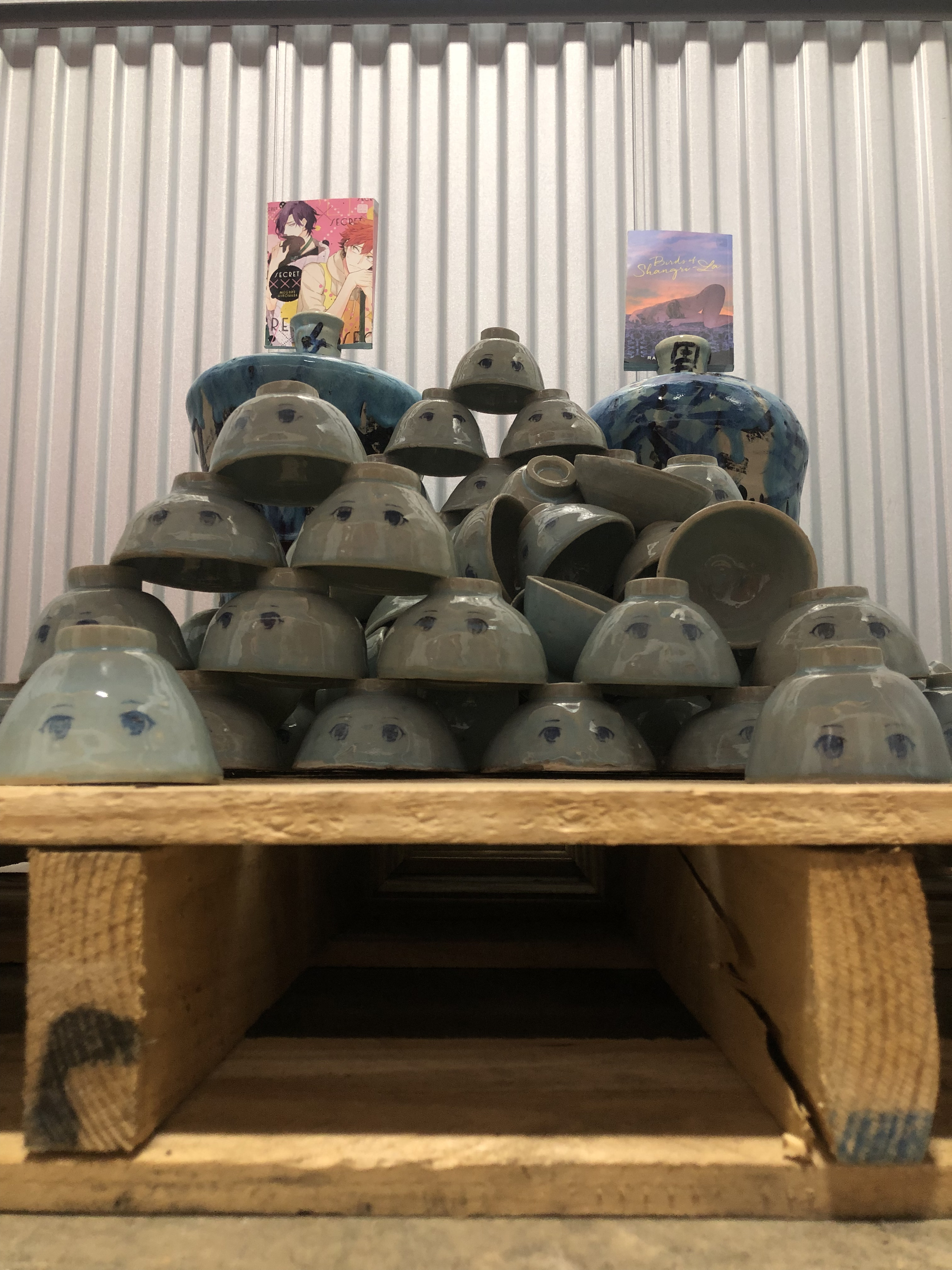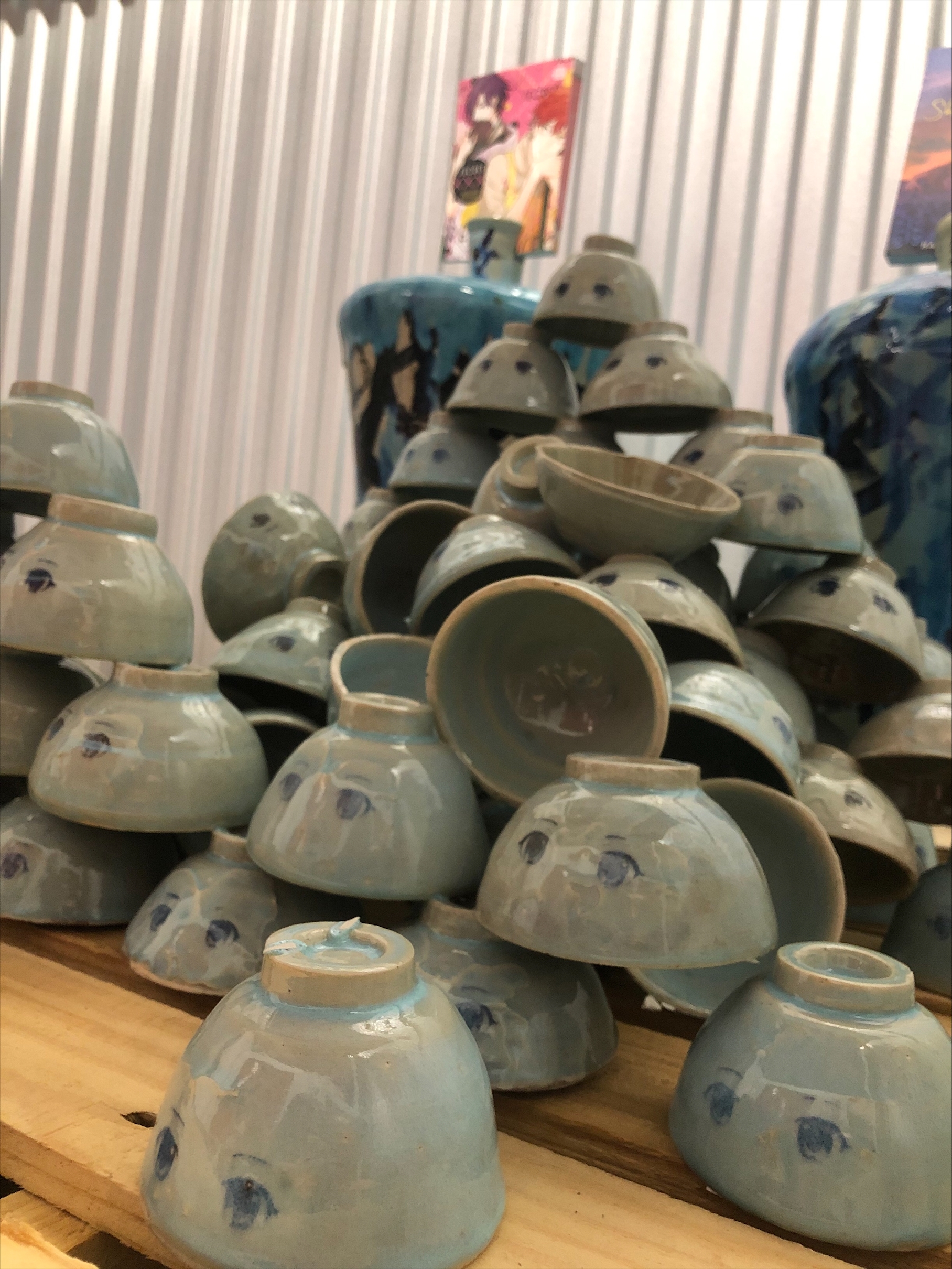 Gaze/Shizen, 2022, ceramic vessels, glaze, found materials
Gaze/Shisen Is about the various distances found within my experience studying Asian art histories and Yaoi/Boy's Love creators' production of manga. Yaoi/BL is a subgenre of Japanese manga which depicts male-male romance, sex, and socialitiy and is made primarily for a straight woman audience typically by striaght women authors. As I study art history, I inevitably create numerous narratives and conclusions within my research and coursework, which undoubtedly have their own widespread impact. I find that these distances (geographic, social, and gendered), which are created by a lack of first-hand knowledge regarding both myself and yaoi creator's experiences, can create positive, negative, as well as generative creations. Gaze/Shisen is a critical and celebratory investigation of viewing and being viewed by these various subject positions and their creative products.
Nathaniel Trost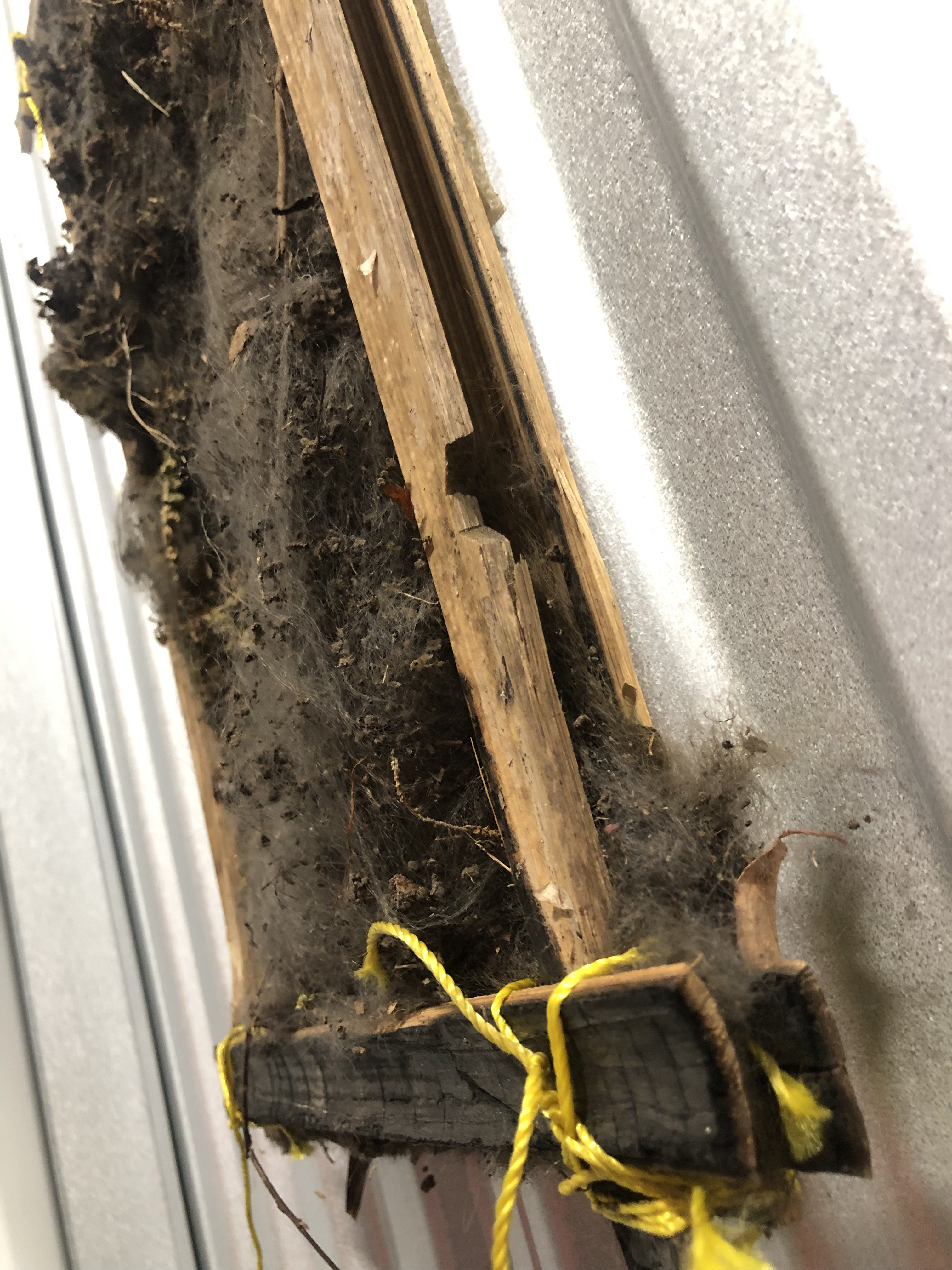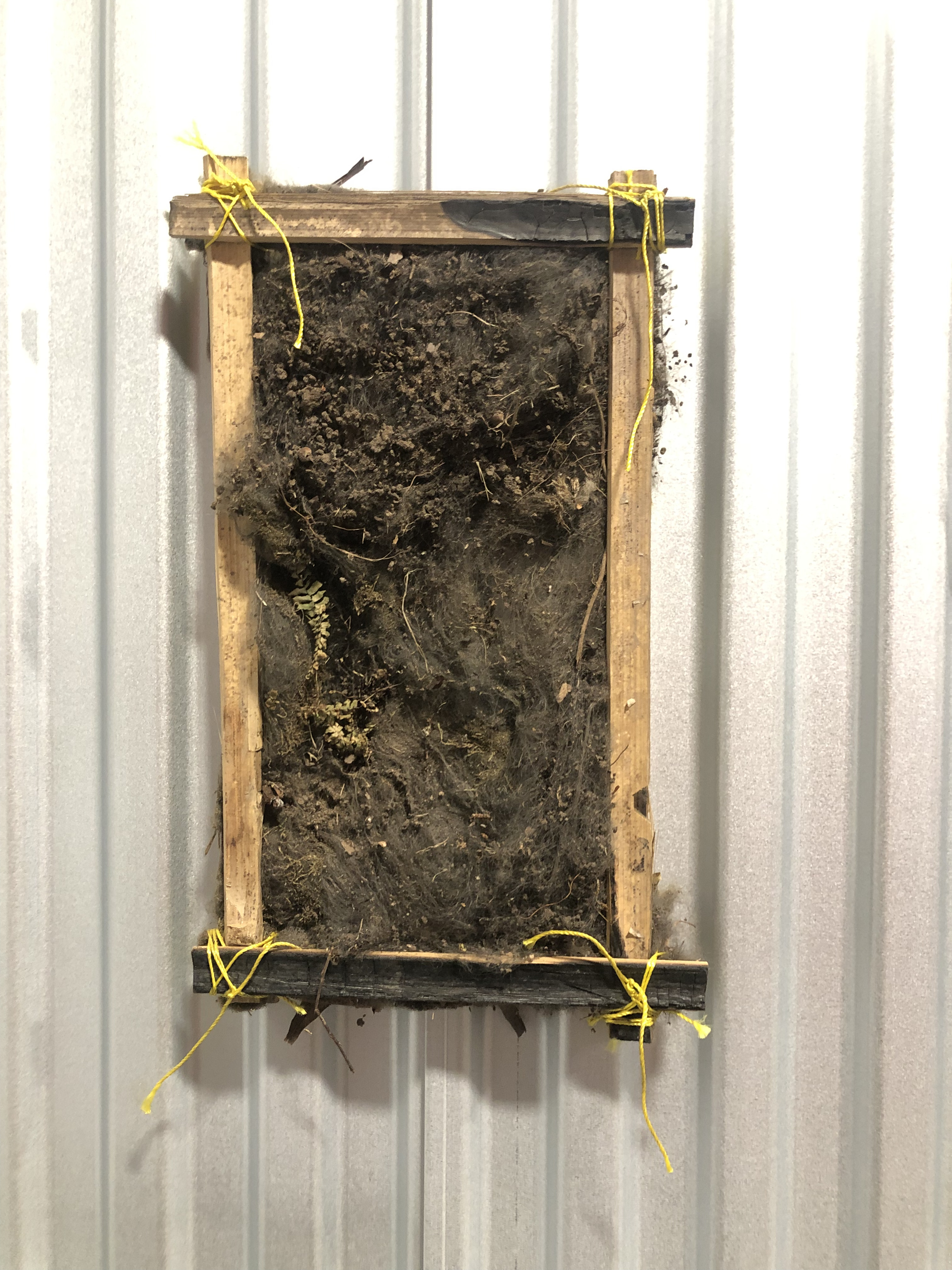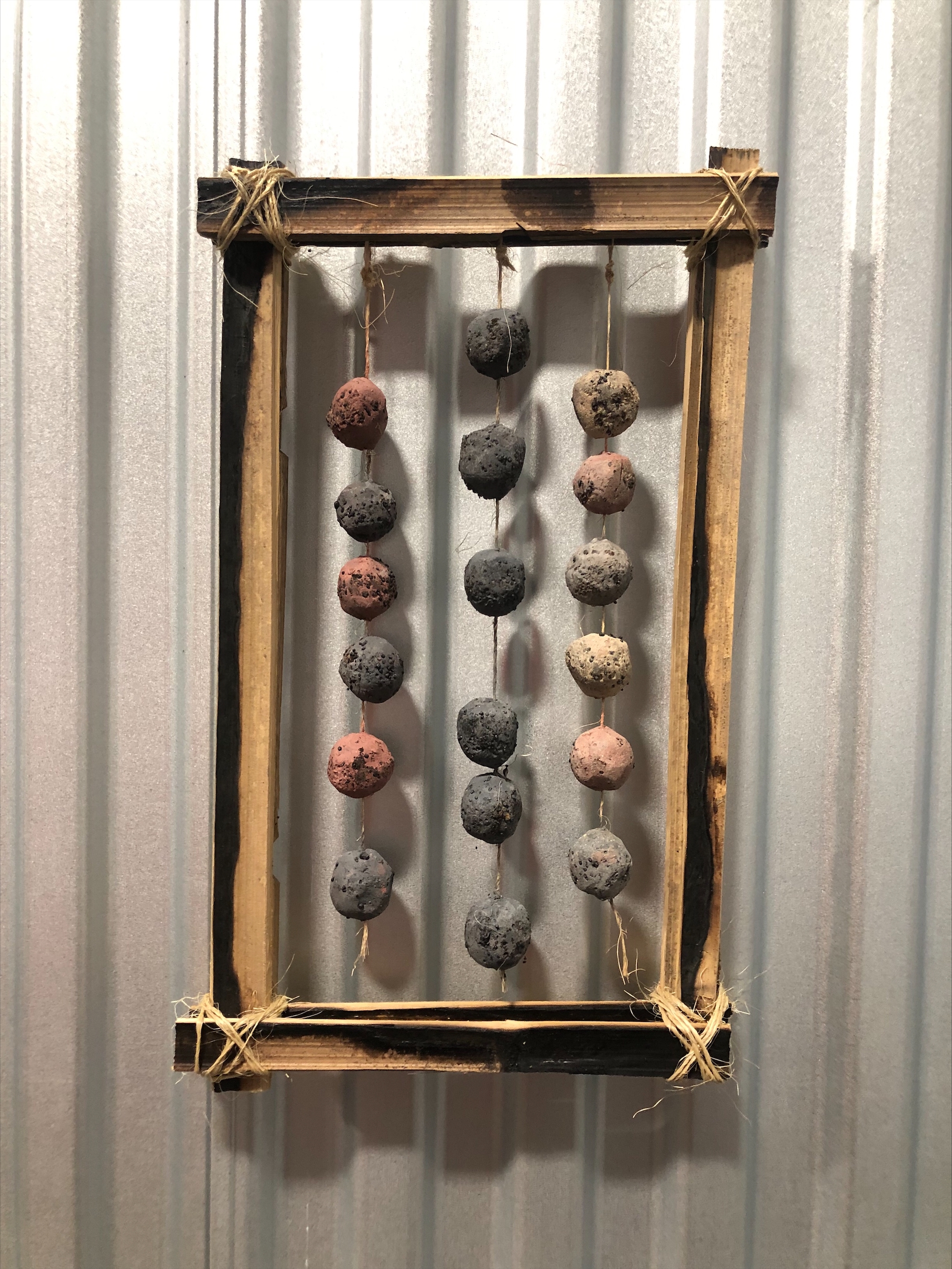 Play Ground, 2022, Bamboo, string, clay, petroleum coke, cockroach dung, fabric, soil
Artist Statement: I am an artist interested in the residue of human activity. I like paying attention to the unforeseen or ignored leftovers of living. Obsolete objects, "pollutants" be they physical, sonic, or otherwise, and ways of life slowly fading out of practice are some of the materials I choose to work with. I work with sound and physical objects and have a background in musical composition, flute performance, and sculpture. In this work, Play Ground I collect a variety of materials that have shaped the environment. The first frame holds strings of clay marbles containing petroleum coke from a now-closed transportation facility on the Black Warrior river by downtown Tuscaloosa mixed with cockroach dung collected while cleaning out my shed after years of neglect. The second frame is filled with a cutting of yard fabric from a garden bed my brother and I replanted for the first time in 20 years.